Rubber Mold - Plate

Rubber Plate Mold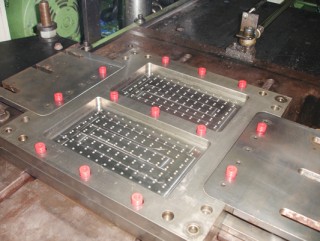 Plate mold is machining cavity directly on mold steel plate or making cavity separately then "insert" it into mold steel plate so the cavity becomes replaceable.
Comparing with cavity mold, the main advantage of using plate mold is to reduce the unit cost of mass production. However, how to control molding pressure with other production parameters well is a technical topic to be dealt with.
On the other hand, you must consider how plate mold coordinates with your machine in working action, heating plate size, pressure output, daylight, stroke, mold fixture, and so on. Those conditions should be coordinated through well communication.
Anyway, rubber plate mold is usually used for making standard & customized rubber component parts. Basically speaking, it has 3 kinds of method which are: Compression, Transfer injection, and Injection molding process.
The selection of what mold type is a professional topic and the first question you have to consider. L&J usually analyses the limitation of mold design, and advantage & weakness of mold type selection from product quality, rubber machine, operating way, and production cost point of view to customer's reference. Customers may also need further suggestions on mold material, mold design, compound rubber, chromate plating, or any other kinds of technical question so L&J would be a very good consultant on those demands.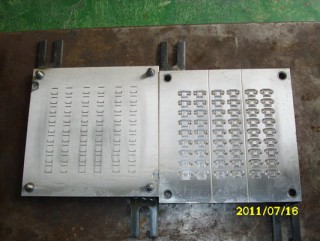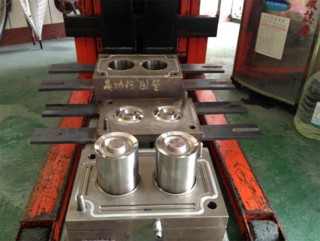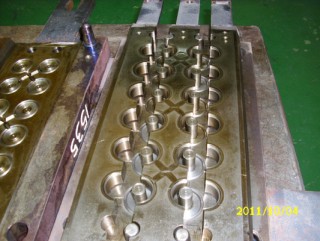 Doing mold test is also a critical process in mold development. Sometimes a mold maker is not really familiar with mass production conditions and requirements so needs the opinions from professional manufacturing factory to improve mold performance. The risk is, during the mold-test process, the mold supplier cannot distinguish what problem is from mold, what problem is from molding conditions (parameter) in production. L&J has strong resources to integrate the know-how of mass production and mold-making together which makes mold test become more professional to solve problem. Usually this feature is not able to be done from other mold suppliers.
Buying mold from L&J, you don't need to worry about the risk of what if fail unless you cannot clearly explain the materials required for making this mold. We will estimate risk during quotation stage in advance. When we accept your purchase order, it means that we will be responsible to finish this order completely. Even after you approve and receive our molds, we will be pretty serious to do after-sales service well through providing consulting and any possible supports which we are able to do, because selling molds is not just selling, it is also a duty to make sure mold running well.
For more information in detail, please make contact with us.
This is the wooden packing to rubber plate mold with

good antirust treatment

which is safe for shipment: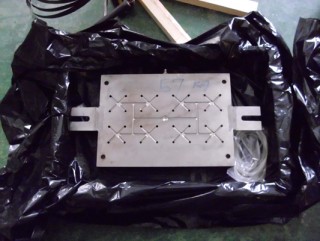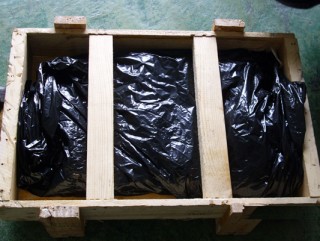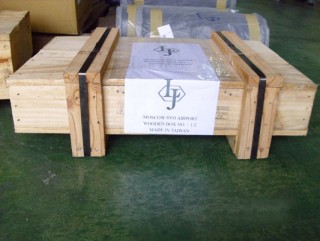 Show list view
Show grid view
Compression Mold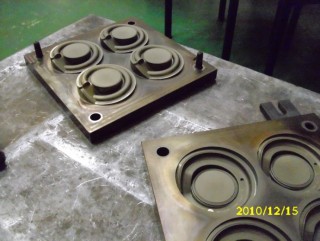 Compression molding process is directly arranging rubber strip above cavity then close mold plate to proceed molding process. Besides the relative production parameters, the mold design focuses on how to have molding pressure spread averagely and how to deal with the going of waste rubber and exhausting air. Furthermore, less flash is always the essential requirement which depends on the design of cutting groove. With good design of cutting groove, not only flash can be easily erased manually, but also can produce good flash-less rubber parts. Cutting groove is also related to the mold life time. The selection of mold steel is an important consideration.
Transfer Injection Mold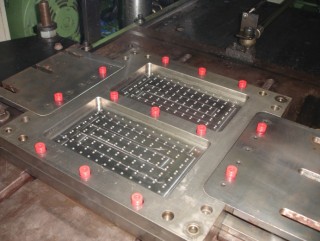 Transfer injection molding process is arranging rubber strip on a chamfer mold plate, then leads the rubber flow into injection channel to fill up cavity averagely through compression molding process. The most common rubber part which uses this kind of mold design is valve stem seal or bonded seal. But anyway, L&J will give the best suggestion according to the structure of rubber part which you want to produce.
Injection Mold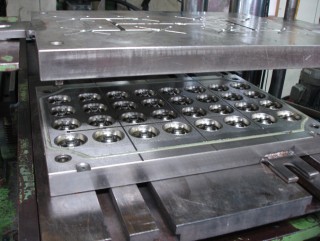 Injection molding process is using rubber injection machine to inject rubber compound into mold cavity. The advantage of this method is to save rubber compound and flash-less. However, not all of rubber parts are suitable for this method. L&J will give the best suggestion according to the structure of rubber part which you want to produce.