Oil Seal
Oil seal is a specific product range in rubber industry which generally is used for automobile, motorcycle, mechanical, or any kind of industry which needs to seal (resist) oil, liquid, air, pressure, temperature, friction, dust, and so on.
---
Here is no need to explain too much knowledge about oil seal because a professional buyer knew that already or we can explain to learning customers in private. Here we would like to explain what a buyer should know most in transaction and what we can provide to customers.

Buying oil seal, generally customers focus on the following features to a supplier:

(1) Whether the existing mold items are complete enough to handle all different size and type?
(2) Whether the quality is good & stable including QC control?
(3) Whether the price is competitive comparing with its quality level?
(4) Whether the lead time is fast without delay and packing is safe for delivery?
(5) Whether the after-sales service is well?
(6) Whether the working attitude is well in coordination and communication all the time?

Yes, we are good at above, except 1., the existing mold items are always under expanding.

Generally speaking, L&J is good at oil seal developing project because of the following 4 reasons:

(1) Well complete facility of production line and test equipments.
(2) Knowledgeable about property of compound rubber and always use good quality compound.
(3) Experienced at oil seal mold design.
(4) Strict quality control process.

However, the level of buying oil seal are usually diversified so it causes different working way and cost structure like OEM and after service level which are very different.?L&J tries to handle both demand well because our working system is proactive in growing.? So, please send your enquiry with essential information in detail as possible as you can.

Enquiring L&J, please at least advise us essential information as:

(1) Oil seal size, type, and compound rubber.
(2) If you don't clearly know the specification, sending sample or drawing design to us is Okay as well.
(3) Quantity (important).
(4) Special demand, if you need, like working condition, compound rubber property requirements, and so on.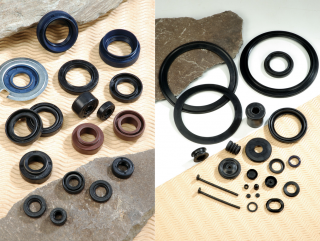 L&J has some existing oil seal specification in stock which can afford the small quantity purchase...
Details
O Ring Specification
All the O Ring SPEC we have.

Download
Rubber Components | Rubber Component Manufacturer - L&J
Located in Taiwan, Linda & Jason International Co., Ltd., since 2006, is a rubber component & rubber part manufacturer. L&J has the ability to supply excellent rubber component mold, including designing, drawing and making, manufacturing, mold-testing, dimension-measuring, thoughtful and well-communicating ability.
Besides rubber components such as o ring, x ring, oil seal and diaphragm, L&J also supplies rubber molding, compound rubber and rubber machinery with high-quality services.
L&J has been offering customers rubber components, molds and machinery based on years of seasoned experience, therefore each customer's demands are met.
View our quality products
Long Effective ACM
,
Silicone Cooling Sheet
,
Compression Cavity Mold
,
Compression Mold
,
Transfer Injection Mold
,
Injection Mold
,
O Ring
,
X Ring
,
O Ring Kits
,
Customized O Ring
,
Gasket and Packing
,
Boots and Bush
,
Customized Design of Rubber Parts
,
Oil Seal Trimming & Inspection Machine
,
Rubber Accessory Processing Machine
,
Engineering Plastic
,
Die Casting Molds and Parts
,
Motorcycle Chain and Industrial Chain
,
Compression Molding Machine
,
TYC
,
THP
,
Rubber Injection Molding Machine
and feel free to
Contact Us
.