Rubber Mold - Cavity
This is one of the main business to L&J all over the world. A good mold plays a very critical role in product quality of manufacturing process. However, every experienced mold buyer knows that buying mold is usually high risky in facing wrong and rough communication or unknown weakness of mold maker's ability.
---
L&J knows the critical points and has 5 kinds of professional ability which are essential conditions for a good mold supplier to make excellent rubber molds:

(1) Drawing-making of design ability
(2) Manufacturing ability
(3) Mold-testing ability
(4) Dimension-measuring ability
(5) Thoughtful and well-communicating ability.

For a good set of rubber mold, it should has the following 5 features:

(1) Accuracy of dimensions
(2) High good rate
(3) Saving compound rubber, saving electricity
(4) Long mold life time
(5) Good efficiency of mold action (depends on design)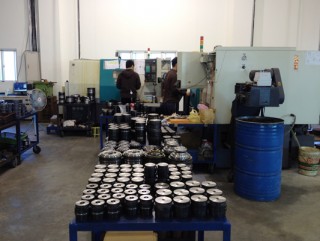 Basically compression cavity mold is used for production of oil seal or some kinds of circular...
Details
O Ring Specification
All the O Ring SPEC we have.

Download
Rubber Components | Rubber Component Manufacturer - L&J
Located in Taiwan, Linda & Jason International Co., Ltd., since 2006, is a rubber component & rubber part manufacturer. L&J has the ability to supply excellent rubber component mold, including designing, drawing and making, manufacturing, mold-testing, dimension-measuring, thoughtful and well-communicating ability.
Besides rubber components such as o ring, x ring, oil seal and diaphragm, L&J also supplies rubber molding, compound rubber and rubber machinery with high-quality services.
L&J has been offering customers rubber components, molds and machinery based on years of seasoned experience, therefore each customer's demands are met.
View our quality products
Long Effective ACM
,
Silicone Cooling Sheet
,
Compression Cavity Mold
,
Compression Mold
,
Transfer Injection Mold
,
Injection Mold
,
O Ring
,
X Ring
,
O Ring Kits
,
Customized O Ring
,
Gasket and Packing
,
Boots and Bush
,
Customized Design of Rubber Parts
,
Oil Seal Trimming & Inspection Machine
,
Rubber Accessory Processing Machine
,
Engineering Plastic
,
Die Casting Molds and Parts
,
Motorcycle Chain and Industrial Chain
,
Compression Molding Machine
,
TYC
,
THP
,
Rubber Injection Molding Machine
and feel free to
Contact Us
.