Compression Cavity Mold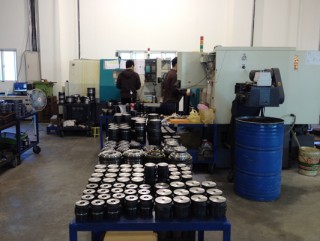 Basically compression cavity mold is used for production of oil seal or some kinds of circular rubber part with suitable structure to make.
We have good facility in mold-production, design and measurement.
The capacity of compression cavity mold is 600 cavities per month based on within 10 items.
We are good at mold design and accurate machining with tolerance only ±0.02~±0.04mm in precision. One general way to prove our precision is that each of our cavity mold part can perfectly match to other mold part by different cavity number, like top layer of cavity No.1 can perfectly match to bottom layer of cavity No.9 without any problem. This is what other mold makers in Taiwan cannot guarantee to achieve.
Enquiring L&J, besides the finished product drawing or sample with made compound rubber, during the discussion to figure out your requirements, we need to know your selections in mold material, engraving SPEC, chromate plating, rubber machine action with mold fixture, mold accessory needs, and so on. Once you are hesitated by those selections, we also can provide our suggestion to design a suitable mold for your needs.
The maximum machining size of compression cavity mold is around
700mm mold diameter

.
Wooden packing to compression cavity mold:
TAG: Rubber Mold,
Contact L&J to Get a Quotation Now!
* To get quick response, please fill out the inquiry form in English.