Rubber Mold - Cavity

Rubber Mold
This is one of the main business to L&J all over the world. A good mold plays a very critical role in product quality of manufacturing process. However, every experienced mold buyer knows that buying mold is usually high risky in facing wrong and rough communication or unknown weakness of mold maker's ability. L&J knows the critical points and has 5 kinds of professional ability which are essential conditions for a good mold supplier to make excellent rubber molds:
(1) Drawing-making of design ability
(2) Manufacturing ability
(3) Mold-testing ability
(4) Dimension-measuring ability
(5) Thoughtful and well-communicating ability.
For a good set of rubber mold, it should has the following 5 features:
(1) Accuracy of dimensions
(2) High good rate
(3) Saving compound rubber, saving electricity
(4) Long mold life time
(5) Good efficiency of mold action (depends on design)
We also have a serious mold-developing process
A. The Mold Sales and Developing Process :
B. Rubber Mold Testing Procedure :
Show list view
Show grid view
Compression Cavity Mold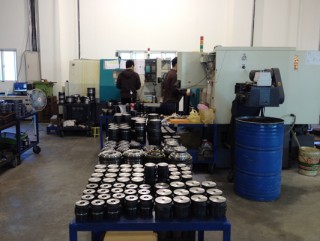 Basically compression cavity mold is used for production of oil seal or some kinds of circular rubber part with suitable structure to make.
We have good facility in mold-production, design and measurement.