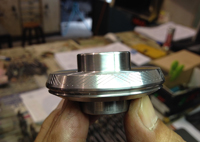 Introduction - 4 axle CNC Helix Machining Equipment
L&J oil seal mold maker has finished the investment of purchasing 4 axle CNC Helix machining equipment in their plant. So, from now on, they will make oil seal Helix by CNC to do the machining which would be very accurate. EDM (Electric Discharge Machining) method is given up. In Taiwan, almost 99% of mold makers still adopt EDM method to make oil seal Helix which is not an accurate way. L&J is the leader of oil seal mold supplier in Taiwan.
---
O Ring Specification
All the O Ring SPEC we have.

Download
Rubber Components | Rubber Component Manufacturer - L&J
Located in Taiwan, Linda & Jason International Co., Ltd., since 2006, is a rubber component & rubber part manufacturer. L&J has the ability to supply excellent rubber component mold, including designing, drawing and making, manufacturing, mold-testing, dimension-measuring, thoughtful and well-communicating ability.
Besides rubber components such as o ring, x ring, oil seal and diaphragm, L&J also supplies rubber molding, compound rubber and rubber machinery with high-quality services.
L&J has been offering customers rubber components, molds and machinery based on years of seasoned experience, therefore each customer's demands are met.
View our quality products
Long Effective ACM
,
Silicone Cooling Sheet
,
Compression Cavity Mold
,
Compression Mold
,
Transfer Injection Mold
,
Injection Mold
,
O Ring
,
X Ring
,
O Ring Kits
,
Customized O Ring
,
Gasket and Packing
,
Boots and Bush
,
Customized Design of Rubber Parts
,
Oil Seal Trimming & Inspection Machine
,
Rubber Accessory Processing Machine
,
Engineering Plastic
,
Die Casting Molds and Parts
,
Motorcycle Chain and Industrial Chain
,
Compression Molding Machine
,
TYC
,
THP
,
Rubber Injection Molding Machine
and feel free to
Contact Us
.