Introduction - 4 axle CNC Helix Machining Equipment
2014/01/20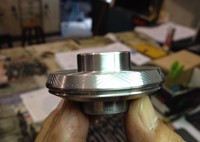 L&J oil seal mold maker has finished the investment of purchasing 4 axle CNC Helix machining equipment in their plant. So, from now on, they will make oil seal Helix by CNC to do the machining which would be very accurate. EDM (Electric Discharge Machining) method is given up. In Taiwan, almost 99% of mold makers still adopt EDM method to make oil seal Helix which is not an accurate way. L&J is the leader of oil seal mold supplier in Taiwan.
✼ The pictures below are our equipment of 4 axle CNC Helix machining equipment with finished Helix shown to you:
* To get quick response, please fill out the inquiry form in English.