Spring
Spring is a very important element in oil seal which usually is the critical factor to affect the force of oil seal assembled application. Therefore, high quality spring is able to enhance and improve oil seal performance.
---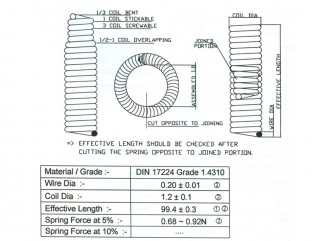 The reason why we are able to provide higher quality spring is mainly from the following 4 factors:
(1) High investment on working facility, like Japan KKS coiling machine, Germany WAFIOS coiling & joining machine, heat treatment furnace, Japan JISC spring loading tester, Italy LTF 2D optical profile projector, SPC software, and so on.
(2) Always use high quality wire steel material from Japan, Germany, and good Taiwanese company.
(3) Well trained people.
(4) With professional and experienced spring working practice for 35 years, we have our own know-how of spring working value to coordinate with diversified oil seal specification and required conditions.
Enquiring L&J, please advise the following information: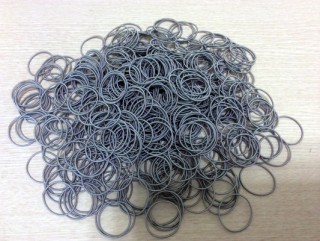 (1) Spring inner diameter (ID), wire diameter, and coil diameter or directly provide spring design drawing.
(2) Required spring force.?If cannot, we can give suggested force value according to the oil seal specification.
(3) Wire steel material, or suggestion from L&J.
(4) Quantity (important).
(5) Special demand, if you need, like spring test report is essential.
O Ring Specification
All the O Ring SPEC we have.

Download
Rubber Components | Rubber Component Manufacturer - L&J
Located in Taiwan, Linda & Jason International Co., Ltd., since 2006, is a rubber component & rubber part manufacturer. L&J has the ability to supply excellent rubber component mold, including designing, drawing and making, manufacturing, mold-testing, dimension-measuring, thoughtful and well-communicating ability.
Besides rubber components such as o ring, x ring, oil seal and diaphragm, L&J also supplies rubber molding, compound rubber and rubber machinery with high-quality services.
L&J has been offering customers rubber components, molds and machinery based on years of seasoned experience, therefore each customer's demands are met.
View our quality products
Long Effective ACM
,
Silicone Cooling Sheet
,
Compression Cavity Mold
,
Compression Mold
,
Transfer Injection Mold
,
Injection Mold
,
O Ring
,
X Ring
,
O Ring Kits
,
Customized O Ring
,
Gasket and Packing
,
Boots and Bush
,
Customized Design of Rubber Parts
,
Oil Seal Trimming & Inspection Machine
,
Rubber Accessory Processing Machine
,
Engineering Plastic
,
Die Casting Molds and Parts
,
Motorcycle Chain and Industrial Chain
,
Compression Molding Machine
,
TYC
,
THP
,
Rubber Injection Molding Machine
and feel free to
Contact Us
.